Six Days of Intercession | Sies Días De Intercesión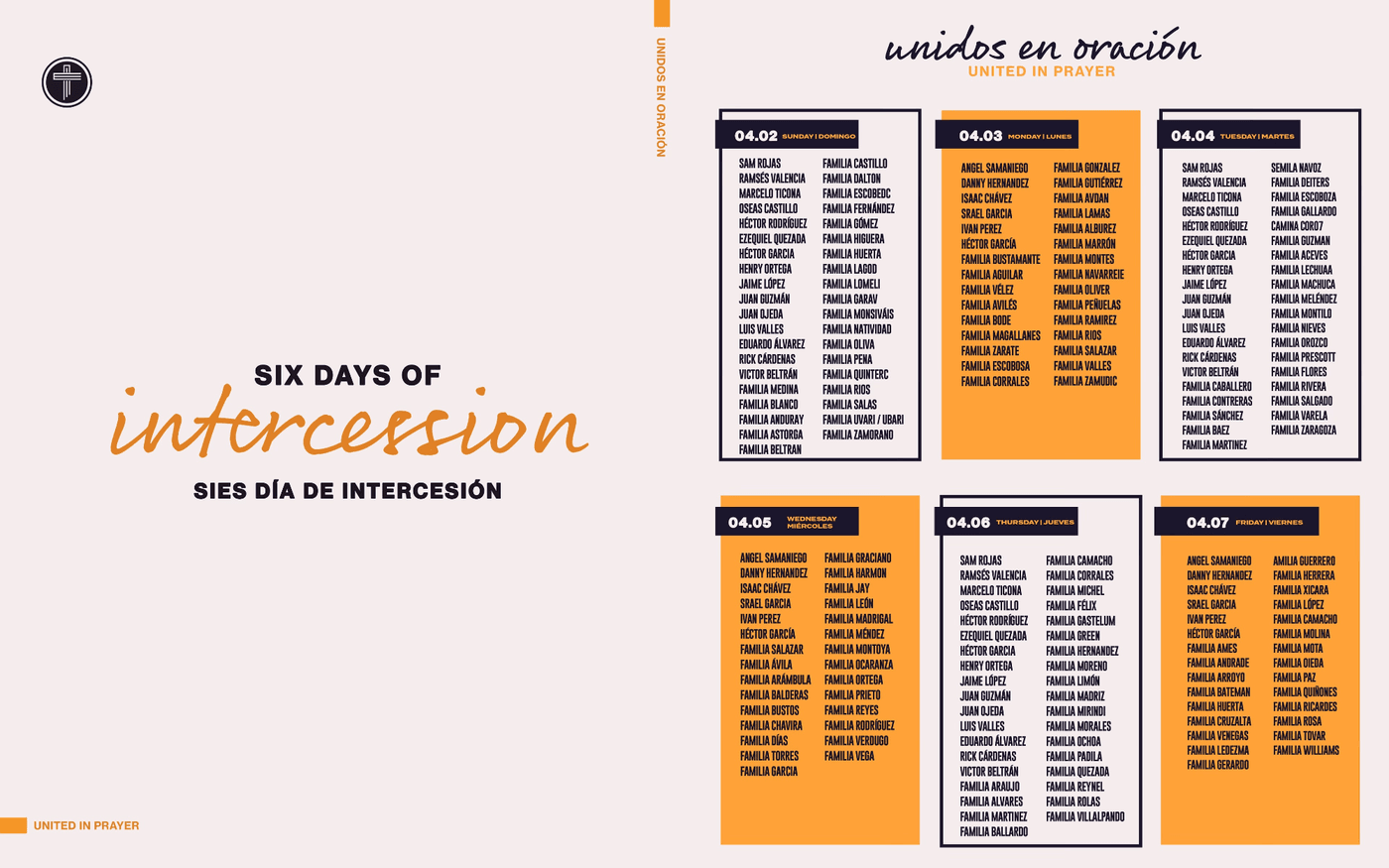 Life Groups At The Experience | Grupos De Amistad En La Experiencia
At the EXPERIENCE we share life together and fulfill our mission through LIFE GROUPS. We have several life groups throughout the community that meet once a week near your home. We encourage you to connect to a life group leader and make LIFE GROUP a part of your weekly Experience. If you are interested in joining a life groups, please contact any Life group leader and they will gladly connect you to to a group close to your home.
En LA EXPERIENCIA compartimos la vida juntos y cumplimos nuestra misión como iglesia a través de GRUPOS de amistad. Tenemos varios grupos en toda la comunidad que se reúnen una vez por semana y hay uno cerca de su hogar. Le animamos a conectarse con un uno de estos grupos y hacerlo una parte de su Experiencia semanal. Si está interesado en unirse a un grupo de amistad, comuníquese con cualquier líder o anfitrión de grupo y con gusto lo conectarán a uno muy cerca de su casa.
Why Life Groups? | ¿Por Qué Hacemos Grupos De Amistad?
The foundation of our Life Groups is found in Acts 2:42-47:42 All the believers devoted themselves to the apostles' teaching, and to fellowship, and to sharing in meals (including the Lord's Supper and to prayer.
43: A deep sense of awe came over them all, and the apostles performed many miraculous signs and wonders.
44: And all the believers met together in one place and shared everything they had.
45: They sold their property and possessions and shared the money with those in need.
46: They worshiped together at the Temple each day, met in homes for the Lord's Supper, and shared their meals with great joy and generosity.
47: all the while praising God and enjoying the goodwill of all the people. And each day the Lord added to their fellowship those who were being saved.
El fundamento de nuestros grupos de amistad se encuentra en Hechos 2:42-47:42 Todos los creyentes se dedicaron a la enseñanza de los apóstoles, a la comunión y a compartir las comidas (incluida la Cena del Señor y la oración.
43. Un profundo sentimiento de pavor se apoderó de todos ellos, y los apóstoles hicieron muchas señales y prodigios.
44: Y todos los creyentes se reunieron en un solo lugar y compartieron todo lo que tenían.
45: Vendieron sus propiedades y posesiones y compartieron el dinero con los necesitados.
46: Adoraban juntos en el Templo todos los días, se reunían en los hogares para la Cena del Señor y compartían sus comidas con gran alegría y generosidad.
47: todo el tiempo alabando a Dios y gozando de la buena voluntad de todo el pueblo. Y cada día el Señor añadía a su comunión a los que iban siendo salvos.
Life Group Schedule | Horarios De Grupos De Amistad
MONDAY | LUNES:
English:
ESTEBAN & NORA GUERRERO
EAST PHOENIX | 602-828-2528
IVAN & GRACE PEREZ
WEST PHOENIX | JIMPEREZ07@GMAIL.COM
Español:
HECTOR GARCIA SR.
GOODYEAR | 480-859-2933
OSEAS CASTILLO
BUCKEYE | 914-621-7395
TUESDAY/MARTES:
English:
RICK & CHRISTINE CARDENAS
AVONDALE | 602-544-9171
IVAN & GRACE PEREZ
WEST PHOENIX | JIMPEREZ07@GMAIL.COM
THURSDAY/JUEVES:
English:
ANGEL & JACKIE SAMANIEGO
PEORIA | 602-518-3393
DANNY & CONNIE HERNANDEZ
MARYVALE | 602-380-7086
Español:
LUIS VALLES
GLENDALE | 602-760-9904
HECTOR RODRIGUEZ
GLENDALE | 623-262-5267
JAIME LOPEZ
GLENDALE | 480-616-8833
FREDDY AVILA
GLENDALE | 623-226-1310
MARCELO Y CINTIA TICONA
TOLLESON | 480-387-4216
FRIDAY/VIERNES:
English:
JOSE & GABBY OROZCO
LITCHFIELD | 602-828-2528
VICTOR & FABIOLA GRANADOS
LITCHFIELD PARK | 480-438-8468
Español:
VICTOR M GRANADOS
GLENDALE | 623.680.9204